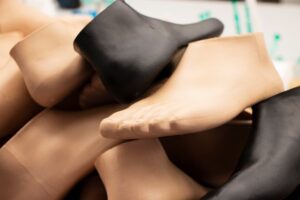 How to make a PVC foot prosthesis that shrinks its environmental footprint while boosting its longevity? That's what OHLA Plast discovered after putting its new formulation to the test. It's part of the company's circular system that also includes recycling waste and end-of-life products.
"Our original intention was to investigate whether we could start producing these from CO2-neutral PVC," says Dick Gustafson, OHLA Plast CEO. "After several months of experimenting and in the field testing among volunteers, we discovered the CO2-neutral formulation was not only more environmentally friendly, but four times more wear-resistant compared to our original formula."
The new formula reduces CO2 emissions at least 50% by using BIOVYN™ – INEOS Inovyn's bio-sourced PVC using 100% renewable feedstock – and a CO2-neutral plasticiser, Dick says.
OHLA Plast also has "a take-back scheme that will give our customers a complete circular system of waste recycling," he says. They're working with Fillauer, a producer of PVC flooring,  "who will grind down used prostheses, giving the material a new lease on life of 20-30 years." It's set to go to the worldwide market in Q1 of 2023.
"We look forward to taking the lessons learned from this project and to apply them across our project range of both PVC and non-PVC products," he adds.