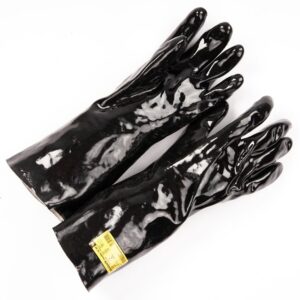 For six decades, family-owned Jokasafe has been making safety gloves for some of the toughest jobs – just look at their presentation video on the web page showing how they're made and used. The company has also shifted to bio-attributed materials.
"In order for Jokasafe to join a carbon-neutral future, we must protect nature by reducing products that burden the environment," says Anna Kaisa Kultalahti, Jokasafe Marketing Manager. "Completely new methods of operation must be developed, which lead to a reduction in greenhouse gas emissions."
Using next-generation BIOVYN™ vinyl, "all our product brands, Jokasafe® safety gloves and TopGrip® antislip material are currently available as bio-attributed products," says Anna Kaisa. "And that's without any changes to Jokasafe's production processes." See the video here.
As shown in the videos, Jokasafe gloves can be safely immersed in chemicals, oils and other mixtures without fear of hazardous substances being absorbed through the glove into the skin. That's because vinyl is durable and can be reused many times, depending on the application.
Bio-attributed products have the same features as conventional fossil fuel vinyl products, offering the same durability and multiple protection, Anna Kaisa says. "Bio-attributed vinyl gloves take it a step further: for customers who take sustainability seriously and have strategic action plans for the future."