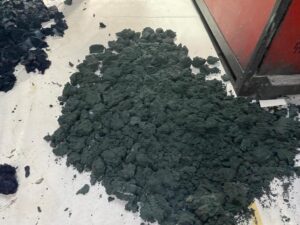 What to do with hundreds of tonnes of waste from manufacturing textiles at Proquinal? The Spradling Group subsidiary in Colombia is turning it into flooring called Zapatón.
"It incorporates 5 different solid residues from our process and avoids throwing away  around 460 tons of solid waste in landfill per year," says Sebastián Soto Ciendúa, head of Marketing and Communications at Proquinal.
The process goes like this: first they collect the residue generated after the production machinery cleaning process. After distillation, the decanted solid is ground to reduce its granular size for extrusion.
After standardising the distillation, the grinding and the formula, they made the first prototype. Later, other kinds of residues were incorporated into the product.
"We're generating revenue from this, so it's win-win with Zapatón," says Sebastián. Zapatón in Colombia means "shoe covering, or overshoe", so tough enough to walk on with shoes.
Proquinal produces a wide range of textiles and coverings as part of the Spradling Group. Across Europe and the Americas, the group produces for the healthcare, transport and hospitality sectors as well as offices, schools, residential and marine interiors and exteriors.