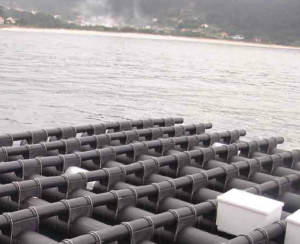 Spain's Albufera de Valencia Natural Park stretches along the Mediterranean south of Valencia, with a freshwater estuary that's part of the country's largest rice-growing region. Granzplast saw an opportunity to make composites while cleaning up the air.
"While farmers usually burn the rice straw as waste, it's also a raw material. Once dried and cut, you can make PVC composites in a more sustainable way," says Granzplast CEO Salvador Benedito Piera.
"Granzplast aims to promote other initiatives for straw management, bringing a potential solution and giving it commercial value, while reducing CO2 emissions into the atmosphere," Salvador says.
The project is in development, using the same blending processes and processing technologies already carried out by Granzplast for other kinds of natural fiber-PVC composites that had been manufactured from other natural fibres.
And there's a local application: PVC-rice straw composite can go into profiles used in mussel farming to conform to mussel trays. "They have excellent mechanical performance and long-term durability," Salvador says.