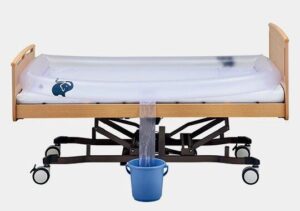 Amid growing demand for caregivers, Confort Banho makes their work a bit easier with an inflatable bathtub out of PVC that is portable and allows for a range of therapies. The Brazilian company also has the caregivers' well-being in mind, with online support.
"Confort Banho has always been focused on generating more quality of life for people who are bedridden or who need special care in bed," says Arthur Pugliese, a social entrepreneur working with Confort Banho.
The inflatable module runs bathwater on the whole body for elderly people, young people and children. "The PVC vinyl material provides conditions for a broad aesthetic and functional performance," Arthur says. Confort Banho's video channel has tutorials like this one here.
"We also want to give support to the caregivers," says Arthur. "Our #ITAKECARE movement starts a new phase of Confort Banho, integrating social purpose in what we do. None of this is possible without collaboration between people."
Caregivers who register for the affiliate program "have access to free sessions with professionals linked to the mental health project," he adds. The website includes blogs and other resources, in Portuguese. They're also on Facebook here.