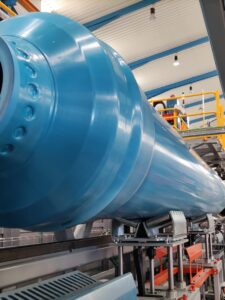 Molecor's been at it since 2006: developing PVC-O pipes with ever more durability for large-diametre, high-pressure use. Its latest is PVC-O DN1200 mm, able to withstand up to PN 25 bar of pressure, suitable for irrigation, drinking water and industrial or fire protection lines.
"This enlarges the plastic pipe field to a new horizon," says Dolores Herran, Business Development and Marketing Director at Molecor. "Before this kind of pipe was metallic, in its vast majority ductile iron and steel pipes. In a water industry, and a society, demanding more sustainable solutions, times have changed."
Molecor met the challenge by further developing its PVC-O, made by realigning the PVC molecules through a process of biaxial orientation. "That gives it around twice the strength and 10 times the impact resistance compared to traditional PVC-U material," Dolores says.
PVC-O provides material savings, uses non-corrosive and durable materials, brings a considerable reduction in loss in water nets, and a much more efficient pumping installation, she adds. It's also 100% recyclable.