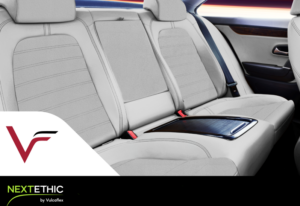 Shrinking the auto industry's footprint is a key part of driving toward a more sustainable way of manufacturing. That's where Vulcaflex's Nextethic® synthetic leather for auto interiors is playing an important role, using recycled, bio-based and bio-attributed raw materials.
"In a market with growing demand for sustainable products and processes, this strategic commitment will help reduce the use of resources, giving future generations new opportunities," says Vulcaflex CEO Roberto Bozzi.
Nextethic® has been successfully tested on premium car specifications, in particular with very low emissions and odour requirements, says Fabrizio Azzaroni, Product Manager at Vulcaflex. "Vulcaflex collaborates with several car manufacturers in the development of Nextethic®." Start of production is set for 2023.
To ensure Nextethic® really is sustainable, Vulcaflex put it to the test with a Life Cycle Analysis (LCA). Working with the University of Bologna, it showed a potential reduction of its Carbon Footprint (CF) – including greenhouse gases (GHG) – by 60% or more.  Content of renewable/recycled raw materials up to 80%.
What's next? Vulcaflex is studying other new biofillers, Fabrizio says. Located in the heart of Emilia Romagna, a region with a high concentration of agro-food industries, many start-ups have sprung up with the intention of obtaining bio-based fibres or fillers.