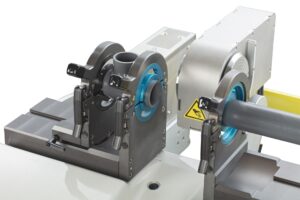 Solvent cementing is a tried and proven method to assemble PVC-U piping. But GF Piping has developed a fully automated alternative that's more sustainable and highly precise, with a machine using infrared technology.
"This will revolutionise the jointing technology for PVC-U piping systems," says Maurice Veldenzer, Product Manager at GF Piping Systems. "The feedback from our customers is very encouraging, so we're expanding to a full range of pipe dimensions.''
Solvents pose not only health and environmental risks, but they can reduce chemical resistance and increase the leach out, Maurice says. "It's also hard to monitor the quality."
Compare that to GF's IR 110-A machine. "The fusion machine monitors and saves the parameters and delivers a fusion protocol for each joint. That reduces the risk of human error," says Maurice.
GF's video of the IR 110-A, seen here, shows a multilingual touch screen and a camera to record the process, an alert signal if there is an error, an independent power supply and an Ethernet interface for remote access.
The video file and full record of the process can be easily exported, there's a label printer inside, a USB socket for soft copy results. "The printed label allows full traceability even after years of service," Maurice adds.