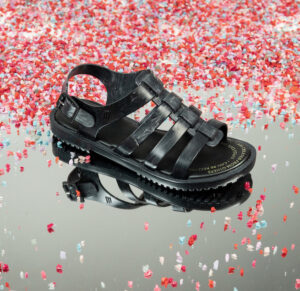 In Brazil, Melissa shoes have hundreds of stores across the country. Owned by Grendene, they've set up a system to collect used footwear and turn them into 100% recycled sandals, cutting CO2 emissions 70% to produce them.
They're called Melissa's Flox M Edition, produced by recycling shoes with the company's main raw material: MelFlex. They're collected in more than 300 reverse logistics collectors in Melissa stores.
"It's a PVC-based formulation that only with heating is resubmitted to injection and moulding," says Vanessa Biondo Rosa, Sustainable Development Specialist for Grendene. See it for yourself with the video here.
The project "also seeks to educate consumers about conscious consumption, highlighting the fact they share responsibility about the end-of-life of products," Vanessa says. "Many times, consumers don't think about the disposal stage."
That's why Melissa launched the project on October 15, 2020: Conscious Consumption Day in Brazil. And it's working. "We've received thousands of pairs in the collection points," Vanessa says.
Grendene also owns the Rider, Ipanema, Grendha, Zaxy, Cartago, Pega Forte and Grendene Kids brands, serving the domestic and foreign markets. Its products are based on sustainability, design and comfort, sold through physical stores and e-commerce.