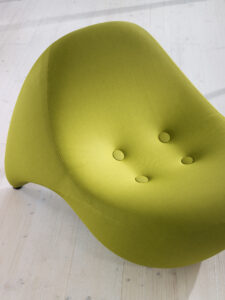 Already using 80% natural and renewable raw materials for its ''nature base'' collection, Continental is aiming for over 90% by weight to further reduce its carbon footprint.  How to achieve that without compromising on performance? With skai® Evida Fiber.
"We took on the challenge to increase the already high amount of 80% further in the direction of 100%," says Dr. Gabriele Brenner, Head of Surface Solutions – Business Area at Continental. "The challenge is not yet complete; we will work on increasing the amount to the maximum."
They're halfway there. By adjusting the formulation of suitable raw materials, it was possible to increase the content to over 90% by weight. "This results in a reduction of the carbon footprint value of the product by more than 15% compared to the standard version," Gabriele says.
Can they push that envelope further? Gabriele says yes. "Production trials and tests proved it. We make it with standard processes for artificial leather."
Gabriela says the market demands it. "skai® Evida Fiber completely fits the rising sustainability awareness of our customers, and we always want to be one step ahead of market and customer needs."
Continental rolled out skai Evida Fiber early this year. "Further and existing articles will be also transferred," Gabriele says. "Nature was, is and remains our role model."