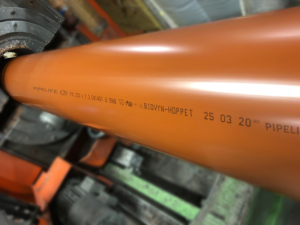 When the city of Gothenburg decided to build a fossil-free preschool as part of its climate strategy, PIPELIFE signed up as a partner to provide the piping. One catch: the rules said no use of PVC. The company had a solution: bioplastics.
The result, for all the plastic pipes such as PE, PVC), was 82,4% fossil-free with BIOVYN™ feedstock using 100% renewables. "Furthermore, we reached a fantastic 49,5% CO2 reduction!, " says Ove Soderberg, Process Development Coordinator.
The city officials ''were cautiously positive to bioplastics for ground-certified pipes. PVC was now an option" in a lengthy approval process, Ove says. "We have high hopes."
PIPELIFE is a leading supplier of piping system solutions for infrastructure, buildings and agriculture, based in 24 countries. By 2021, more than 885.000 km of PIPELIFE pipes had been installed. And counting.