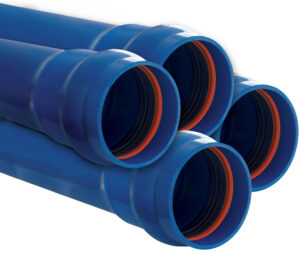 FITT took INOVYN's Gold Award for Value to Society for its FITT Bluforce RJ: sustainable polymer alloy piping for pressurised water distribution. It's the first PVC-A in Europe with the coveted EPD® (Environmental Product Declaration).
"FITT measured environmental impacts of its product with lifecycle analysis (LCA) and made the results available for everyone via EPD," said Gianfranco Battaglin, FITT's Product Innovation Manager, who went onstage to accept the award.
"Being honored by INEOS Inovyn confirms that FITT and its partners are fighting against climate change, that they are acting in the right direction," he said.
FITT's Bluforce project aimed to make the break with materials traditionally used in irrigation infrastructure and water systems, many of which are ageing and face replacement. PVC-A combines the strength of PVC-U with polyethylene chloride (CPE) to ensure high resistance to long-term crack propagation, the main cause of breaks in pressurised networks.
"Sustainability, innovation, impact on people, environment and business, are the pillars of FITT's way of doing business. The same principles were also embraced by the strategic partners during the K 2022 Trade Fair," said Gianfranco. "At a time of great change and uncertainty, shared values and visions are key elements for partnerships that look to the future of the planet."