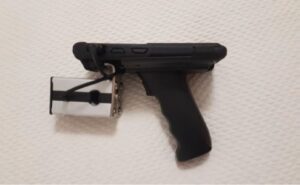 It's one of the latest moves by VinylPlus® to meet the UN's circular economy goals, this time focussing on hospital waste that's been increasing since the Covid pandemic. VinylPlus® Med comes full circle by collecting, sorting and recycling to make new products.
The new pilot recycling scheme teams up waste management company Renewi, recycler Raff Plastics, and VinylPlus to collect non-infectious PVC medical waste from Belgian hospitals, says Vincent Stone, Senior Manager, Technical and Environmental Affairs at VinylPlus®.
"It goes like this: Renewi does the reverse logistics and supplies storage space. Raff Plastics dismantles any non-PVC parts and processes the waste," Vincent says. "VinylPlus supplies the waste collection material and trains the healthcare personnel." See the video here.
The tech innovation is the Near Infrared (NIR) scanner, developed by Phonix RTO with hyper-spectral reflectance technology, to easily identify ortho-phthalate-containing fractions and segregate them into another stream.
The tests have led to a high-quality colorless regrind. Converting and laminating tests of the regrind were under way by a manufacturer of wall cladding. "VinylPlus® Med produces a new high quality, REACH-compliant source of soft PVC recyclates, which are in significant shortage in Europe," Vincent says.