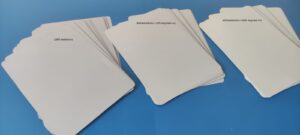 For a cutting-edge credit and ID card film producer churning out 16.000 tonnes a year, it's a big deal for SPICA to reconfigure its operations, working with customers to become 100% circular. Switching from TAKE-MAKE-DISPOSE to REDUCE-REUSE-RECYCLE.
"The current situation has forced us to reconsider and re-engineer the whole approach, creating a closed loop within the industry," says Amalia DiMatteo, Spica's R&D, Quality and Laboratory Manager. "We're using skeletons, set-up sheets, printed sheets to create new material and start the cycle all over again."
That includes making better use of production materials. ''We're giving dignity and value to production scraps that nowadays would be wasted," Amalia says.
The project is to be fully activated in early 2023, a big job to rejig its four calendaring, two coating lines and fully-fledged converting department. Their products include plastic films for
E-passport, e-ID, IoT SIM/GSM, M2M and ID access control cards, often with multi-application or biometric capabilities.
With a history spanning back to 1953, SPICA is a global leader in plastic films for cards. It's got a "one-stop-shop" product portfolio, with recent innovations including plastic films for bacteria-resistant cards, display cards, biometric cards and fully sustainable plastic cards made from 100% recycled material.