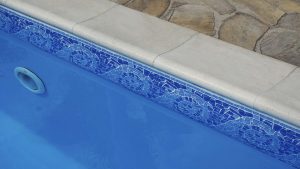 Try throwing a pool party and tell your guests to leave the make-up and sunscreen at the door? You know that won't fly, and that's why Elbtal has a way to protect your pool from those unwitting menaces. It's called ULTIMATE BORDER™, a PVC covering in a wide range of colours and prints.
"It's the perfect solution for an unsightly waterline, with a patented shield on its surface against the chemicals in cosmetics or sunscreens," says Daniel Indra Cahyadi, head of R&D at Elbtal Plastics. "Especially combined with sunlight, those substances – organic or non-organic – can be extremely difficult to remove."
ULTIMATE BORDER™ is welded on the top of a reinforced membrane installed in the pool, a 26-cm border protecting the waterline. It's also good for renovation projects.
Along with UV and stain resistance, it prevents bacteria and fungi from developing. It's easily cleaned with alcohol or solvents. In fact, Elbtal is so sure of ULTIMATE BORDER™, they offer a test kit to try it out on your pool.
There's also a four-day installation training course at the plant location in Coswig/Dresden, Germany, for groups of up to eight people, in English or German.