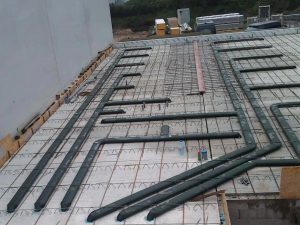 They started the company three decades ago, producing PVC profiles for exterior roller blinds, eventually making window and door profiles for companies like Liebherr. Profilink has since made the process circular by separating, cleaning and reprocessing end-of-life PVC into granules.
To do that, they developed new equipment to modernise their production. Since their founding, they've built three production facilities, with partnerships in Ukraine, Romania, Moldova, Serbia and elsewhere.
The upgraded equipment extrudes with both virgin and recycled material. ''Tests show the co-extruded profiles are not only of the same quality but actually stronger. With this new tech, Profilink joins the European initiative Eco-innovation,'' says Ivo Todorov, Profilink's Production Development Manager.
"It's been a steady trajectory," says Ivo. "We've also bought new production lines to make us one of the leading PVC producers in Europe."
That includes custom-made profiles in a variety of colours, for windows, doors, cladding, blinds, roller shutters and special purpose products. Check out those upgraded facilities in this video.