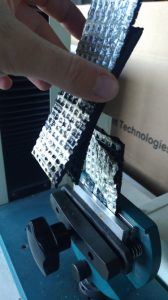 Putting some of that post-consumer PVC from buildings to use, the tech team at Mopi figured out how to potentially blend it and possibly create a wide range of bitumen-based products like roofing membranes, emulsions, asphalt.
"Recycled Rigid PVC and recycled plasticised PVC can be used as a modifier for bitumen by replacing polymeric virgin raw materials," says Camillo Cardelli, senior scientist and technologist. "By properly mixing and dispersing PVC in bitumen, we get few interesting benefits."
Among them: more durable materials with an even lower temperature of cold bend. "But also, thanks to PVC's chlorine content, it's more flame retardant," Camillo says. "It's more resistant to oxidation and to UV aging for outdoor applications under sunlight."
Camilo says bitumen applications are very safe for recycled PVC compounds from cables and window profiles: "Even in the unfortunate case of the presence of some unwanted legacy component such as cadmium and lead, the exceptional hydrophobicity of bitumen means they don't come out anymore, even in prolonged elution tests at high temperatures for four weeks."
That's what Mopilab is all about: accurate experiments together with a reliable and technologically advanced laboratory. In acoustic materials, plastics and bitumen, with special competences in fire behaviour of all materials.