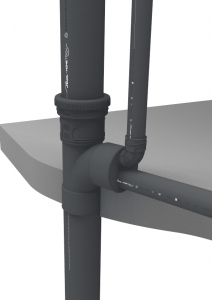 Compromise on quality to shift toward the circular economy? Non, non, et non! says Aliaxis, you can have both. Working with local suppliers, its French subsidiary Nicoll has developed wastewater pipes using 20% recycled materials while raising the quality of the products.
Nicoll's HOMETECH® system is eco-designed, using recycled ingredients while preserving fire-resistance and enhancing acoustic performance to ESA 4. The pipes and fittings are produced in diameters 32 mm, 40 mm, 50 mm and 100 mm.
"The biggest challenge was to formulate a material suitable for the injection of the fittings, as there was no directly usable material on the market," says Fabien Yvai, Director of EMEA Building Innovation and Product Development at Aliaxis.
"With a recognised supplier in collecting and recycling, we worked on material formulation, process and product design to deliver a quality product for the plumbers and the end-users," says Fabien.
Nicoll HOMETECH® is certified FDES (Fiche de déclaration environnementale et sanitaire, or the  environmental and health label), indicating its lifecycle from beginning to end complies with sustainability criteria. Check here for more information on the piping system.