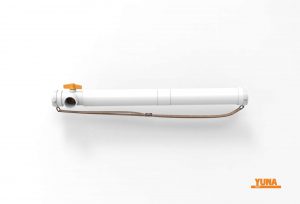 It was the thought of millions of women in the developing world searching for drinking water that drove Karen Silva to innovate. She created Yuna – a purifier built from repurposed PVC tubing and slung over the shoulder, so it works while you walk.
"Thanks to Yuna, women and children of the poorest communities around the world can carry 3.5 litres of water from a source and get it purified while returning home," Karen says. "The challenge was to reuse PVC pipes and components and give them a brand-new purpose and use."
It's also good for hikers, military personnel and disaster relief scenarios, she says.
PVC was the perfect way to build it, Karen says. ''I was attracted by the variety of PVC connectors, pipes, valves, elbow and T-pipe connectors already in production. It was like building something in Legos! But in this case instead using Legos I used only PVC pipes and PVC connectors.''
The water percolates down through a vertical tube, through layers of rocks, coarse sand and fine sand and a coffee filter to produce drinking water accessible through a valve at the bottom of the tube. More deets here: http://bit.ly/303tGSn and here: http://bit.ly/3pUq4MW
"Yuna can inspire many other designers to reuse what is already in production and by creating new products that respond to a real need," says Karen. "The good thing about this product is that it fits perfectly into the circular economy model: reduce, reuse and recycle."