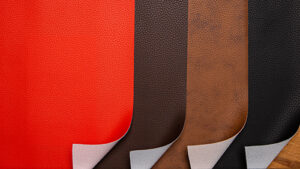 With the motto "reduce-reuse-recycle", Icaiplast has combined natural fibres with recycled plastic from sea clean-up operations to create synthetic BI-LEATHER. They've also boosted the sustainability of the way they manufacture it.
"Not only are our raw materials derived from vegetable origin, but Icaiplast also contributes to the cleanliness of the seas," says Marta Parietti, director of R&D at Icaiplast. "Sensitivity of our planet, combined with the experience of our R&D department has created a versatile and sustainable product, BI-LEATHER."
"I took inspiration from nature. We live on this beautiful planet and we have the responsibility to take care of it," says Marta. "With this 'green idea' I have chosen fabrics with recycled fibres, certified plasticisers and now I'm working with different natural raw materials like fruit, minerals and plants. Even the PVC used for these products is certified and eco-friendly."
BI-LEATHER comes in different colours and patterns with different base fabrics certified Oeko-Tex standard 100. Icaiplast has also eliminated the use of DMF – Dimethylformamide – in manufacturing BI-LEATHER.
For nearly a half century, Icaiplast has been making synthetic leather for a wide range of uses, from boots, skates and running shoes to fire-resistant materials for the railway industry.