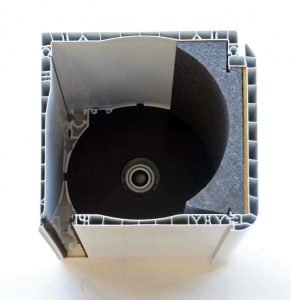 How to cut the noise in rolling shutter boxes and get nature to help? LaViuda turned to epoxidised soybean oil (ESBO) as a prime plasticiser and co-stabiliser. That's based on an INOVYN PVC material called 271DF, replacing adhesive bituminous foils.
"Through an extrusion process, we obtain a foil that is integrated on the rigid PVC profile of the register box lid," says Jose Luis Lopez, Technical Director of LaViuda. "This foil gets completely united to the structure by a laminating process, and a bonding process by an adhesive using a reactive polyurethane."
Rolling shutters, including hardened security shutters,  are the specialty of this nearly 95-year-old family-run company. They also produce awnings and fixed or pivoting louver panels for privacy and solar protection.
Concern for the environment is an important part of LaViuda's history. That includes reducing the environmental impact of all its production processes. "Our Waste Management System allows us to control and minimise any generated residues, along with waste reduction and recovery," Lopez says.