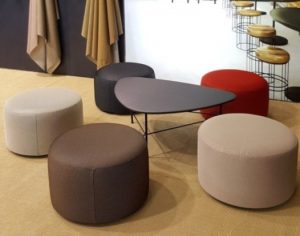 Lamitor has developed a hybrid material that combines the practicality of PVC with the look and feel of a conventional fabric that's good for upholstery, footwear, leather goods, clothing and decoration.
"This new coating system allows both materials to coexist independently without mixing or intermingling, so each material offers its own appearance, performance and structure," says Javier Alonso Cortés, Lamitor & Alonso Mercader marketing manager.
"It gives a new vision to the traditional sectors of uses like shoes, furniture, clothing and luggage," says Javier Alonso. "It shows a warmer and more comfortable look than traditional PVC and it also adds a technical touch to the fabric. So it contributes to a new approach to the design and delivery of conventional PVC articles manufactured to date."
At the same time, Javier Alonso says the PVC coating improves resistance to shock and abrasion of the fabric itself. It provides greater fire resistance, thermal insulation, thermoformability for many applications, and offers greater structural stability as well as total impermeability.
Lamitor and Alonso Mercader are companies specialised in fabric coatings with synthetic resins since the 1980s.