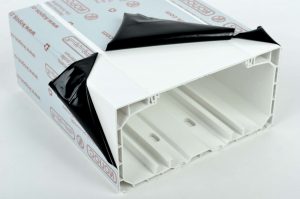 How to better divide and shield your data and your power cables in your office or home network? Nearly a century old, Kopos Kolin adapted its line to the digital revolution, with double-sided parapet trunkings made from PVC.
The R&D team faced a challenge. "The biggest problem was to produce thin walls inside the profile," says Vlastimil Volejnik, Marketing Manager at Kopos Kolin. "That took a special PVC blend to make it work effectively and economically."
Combining both rigid and flexible construction, the double-sided parapet trunkings are among more than 1300 fire-resistant systems at Kopos, which also include wiring boxes, wiring pipes, fixing materials and cable management systems.
"We're the biggest producer of wiring material in the Czech Republic," says Vlastimil. The family-owned company got started in the 1920s, buying a semi-finished building from a candy producer to make wiring pipes, boxes and accessories. Now they have subsidiaries across Europe and in the Dominican Republic.
Their latest products also include Neutrostop shading blocks, to protect from neutron radiation.