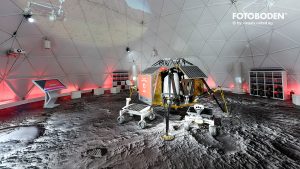 Trade fairs and other events could in some ways be as punishing as the moon's environment, with a lot more feet pounding the surface. FOTOBODEN's R&D team took on the challenge to make a large-as-life floor poster that meets tough requirements and is 100% recyclable.
"Working in the trade show business since years, I wanted to have a perfect printable flooring to create magnificent stands for customers," says Timo Michalik, CEO of Visuals United, creators of FOTOBODEN.
"We designed it with high-abrasion resistance, non-slip, meeting fire protection specs and lasting six months," Timo says. "This took several months of testing to get the best combination of PVC surface composition and inks."
For consumers, Visuals United also developed VinylRugs, photorealistic vinyl carpeting for residential usage. And FOTOBODEN.de allows end users to design their own flooring. For more on the company, see the videos here and here.
While Visuals United takes care of the top layer finishing and printing, the substrate comes from such flooring manufacturers as IVC, Tarkett and Beaulieu. Reacting to the Covid-19 pandemic, the company quickly expanded its product portfolio with spacer mats for use in social distancing.