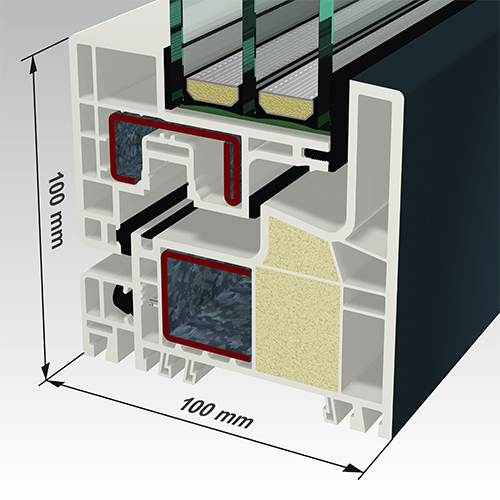 Glazing and insulation are the keys to Gealan's innovation of PVC window and door systems. So much so that they have special names, and special seminars to demonstrate to architects and managers the competitive advantages over wood and metal.
IKD® stands for Intensiv-Kern-Dämmung, or "Intensive Core Insulation". "It's a foam technology meant for various systems and products that improve the thermal insulation, and it's recyclable," says Alexander Aust, Materials Department Manager at Gealan.
STV® is Statische-Trocken-Verglasung, meaning "Static Dry Glazing". "It's a groundbreaking system for dry-sealing the window," says Aust. "It has significant advantages compared to the usual wet process, without compromising on ease of use."
The result is a fully concealed sash profile, allowing the largest possible glass area. What's more, the acryl-colour surface is a co-extruded and coloured top layer made from high-strength PMMA acrylate.
With all the innovation inside, Gealan-Kubus is a highly effective competitor to wood and aluminium in the construction of high-end and architecturally sophisticated buildings.
For all those architects, planners and production managers interested in learning more, Gealan has organised seminars across Germany via their "Future Center" based in the Bavarian town of Oberkotzau. They are also going global, with webinars in 2018.