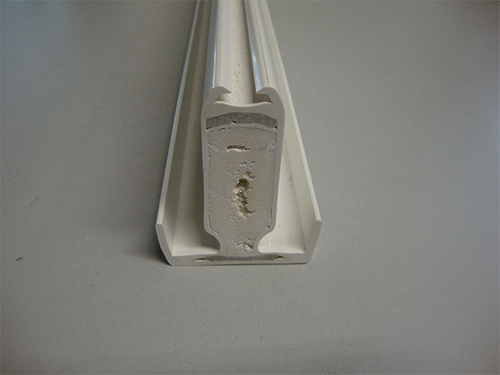 Climate change and energy costs were among Rossi Stamp's key targets in designing a window profile that cuts energy use. The result: Thinframe profiles that also cut the cost of manufacturing through a simpler process.
"Today climate change is constantly developing (see the last heavy snowfalls, hurricanes, the high percentage of humidity due to the strong temperature changes, et cetera)," says Francesca Pandolfi, Export Manager at Rossi Stamp. "For these reasons, buildings have to be adapted for our security."
With windows, about 30% of heat loss usually takes places through the frame, Pandolfi says. "Thinframe performs better than steel or other metals, offering better insulation with foam material. That means there's less expense due to the heat saving, less CO2 release into the environment."
In addition, the profiles are reinforced with localised glass fibre to give the desired strength. That eliminates the need for metals, and without steel, there's no risk of corrosion, says Pandolfi.
"In that way, we can make the finished product in a single step," she says. "We are adding the insulation directly during the extrusion process. That can cut manufacturing costs by up to 20%."
Thinframe also complies with European Union regulations, including the Energy Performance of Buildings Directive (EPBD).