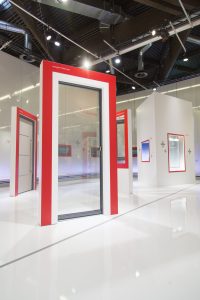 These days architects usually want to show less frame and more window. aluplast pursued that goal with the idea of "less is more," with a frame width of only 109mm, giving more natural light yet with effective insulation for energy efficiency.
"With energeto® 5000 view we hide the frame overlap behind the sash," says Patrick Seitz, Managing Director of aluplast. "That gives architects and designers more possibilities."
And yet, manufacturers can work with their existing production lines and tools because the mass production process remains unchanged. "The sash is glazed in the normal way, that is, from the inside with the sash already hinged," says Seitz.
Seitz says energeto® 5000 view is also suitable for renovation projects. "It is compatible with the renovation frame. "Developing a version with standard frame was achieved by the use of aluminium shells," he says.
And there was another challenge to figure out: the aluplast team had to give the slim sash enough strength. The secret: the "bonding inside" technology that transfers the load across the entire profile.
energeto® 5000 view makes it possible to have the insulation material overlap with the window element, which considerably minimises thermal bridges in this area. "Why is this so important?" asks Seitz. "Because it has the greatest impact on a building's energy efficiency."
Established in 1982, Karlsruhe-based aluplast has grown to include 23 production sites and sales offices, with some 1,200 employees, half of them in Germany and the rest abroad. It ranks among the top 100 most innovative middle-size enterprises honoured at the 2017 German Summit for Medium-Sized Companies in Essen, Germany, in June.
www.aluplast.net