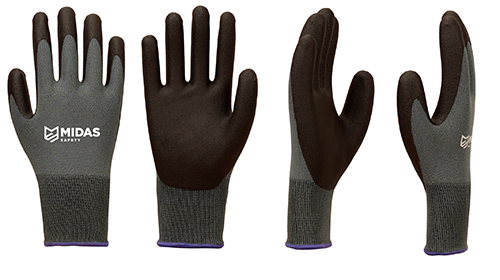 Across all kinds of industry, gloves can make a major difference in safety and comfort. Midas Safety thought out a wide range of possibilities in developing theirs with Hydropellent Technology® (HPT®), and it took a rethink of the production line to do it.
"HPT® is a special coating which provides the end user with a dual benefit: the best combination of comfort and performance. With the addition of the winter HPT®, there are benefits you can enjoy all year around," says Adnan Peerzada, Commercial Manager at Midas Safety.
And just what is HPT®?  "It s a soft, durable and flexible coating that repels liquids to provide a firm wet or dry grip," says Peerzada. "It´s made up a combination of PVC Resins mainly with Pevikon P737, plasticisers and other additives."
The gloves' seamless liners can be made of nylon, polyester or Kevlar as needed, then dipped in the compound. What´s more, encapsulated air molecules help absorb vibration, and the gloves are treated with Sanitized® hygiene to inhibit bacteria and minimise odours.
There categories of Hydropellent Technology® include: HPT® REGULAR, HPT® WINTER, HPT® ULTRA GRIP, HPT® ULTRA SPLASH & HPT® CUT. Developing the different kinds for mass production was among the challenges of getting them to market.
With dry grip, water grip, oil grip, breathability and high dexterity, HPT® gloves can work in food processing, food handling, auto assembly, construction, shipping, injection moulding, cold storage and plumbing. Or even in your garden.