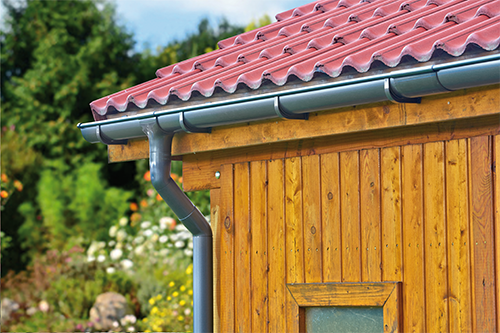 They're necessary but often an eyesore: rain gutters. White, bulky and something you'd rather not see. Until now. Marley has developed PVC gutters with an anthracite metallic look that can actually make them an architectural enhancement.
"It's been a real innovation for plastic rain gutters," says Björn Bolay, head of product management at Marley. "They're usually not very trendy with the existing old standard colors. But our iron mica will lead to a trendier image of PVC gutters that sheds the old-fashioned look.
Marley's R&D team had to find the right recipe for the special colour effect, while at the same time having the needed UV stability for the gutters. ''Another important challenge was reducing colour differences between extrusion and injection moulding products," Bolay says.
Marley made sure to develop the new gutters by sounding out their clients. And the company has a variety of colours in addition to anthracite metallic: regular anthracite, copper and silver tone, green, red, black and, yes, white too.
"Our line fits modern architecture and buildings, and the response from our customers shows us, that we developed an innovative modern product according to the needs of the market," Bolay says.
It's just one part of what Marley has done for more than a half century, along with ventilation and water systems, folding doors and sheet roofing for builders as well as do-it-yourselfers.