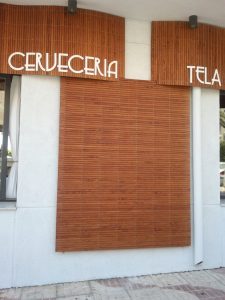 At La Viuda, they know how important it is to avoid cutting down forests. That's why they make their wooden-looking blinds and profiles with a blend of natural fibres and PVC.
''They're Alicante-type blinds with the look and feel of the real thing,'' says Rafael Estevan Gil, CEO of La Viuda. "We did it with a new formulation using PVC and a chemical foaming process, suitable for stabilisers and pigments for outdoor applications."
While the original blinds were made with natural pinewood, the new ones have natural fibres, including recycled wood fibres, combined with the PVC.
"By replacing wood with PVC and obtaining a foaming process for the whole system, we are able to produce a profile with similar characteristics to wooden products but with stronger weather resistance".
What's more, La Viuda's product has high-impact properties, allowing nailing on the assembly lines.  There's no need to treat it against moisture, bacteria and fungi, and no need for such mechanising operations as profiling, edging and surface sanding.
"You don't need to paint or lacquer it over time, because it has excellent outdoor weather resistance. Its formulations include high resistance pigments" says José Luis López Canicio, La Viuda's Engineering Director.
La Viuda makes more than a dozen kinds of PVC blinds, along with shutters, mosquito screens, curtains, security doors, folding doors, as well as wall and ceiling coverings.