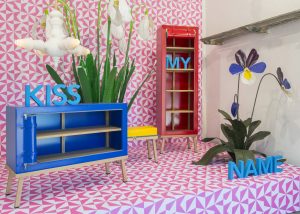 Zippers and PVC sheets in a colourful, reuseable coffin? Or how about benches, stools and cabinets made with industrial PVC cloth? That's how designers Visser & Meijwaard have developed Truecolors,  in which versatility of use and colour define their works.
Steven Visser and Vera Meijwaard started their firm with a foldable camping closet and leather gymnastics buck, using PVC upholstery with zipper cushion covers that can be easily replaced. That led to other creations using natural-finished oak frames with primary coloured PVC upholstery.
It was a visit to a vinyl factory that led to Truecolors. "Here we got inspired by the possibilities and diversity of the vinyl and got triggered to use technical details like the zippers, that are being used in the industry," says Meijwaard.
Truecolors had its challenges. "Our product needs to be made very tightly," says Visser. "Since PVC doesn't stretch like leather or fabric, it is more difficult to get a sleek-looking product when using small patterns. Sizes need to be calculated very precisely to get a good fit."
Their coffins are made up of three detachable parts; an undercarriage, a stretcher and a PVC cover. Zippers allow the shell to be opened and closed as required during the ceremony. The cover is removed before burial or cremation, allowing the coffin to be reused.
"From an aesthetic world of material, colour and shape we make objects full of expression that are sometimes real products, sometimes more art and sometimes more decor and space," says Meijwaard.