Multidrug-resistant bacteria can be silent killers in medical facilities, even with extensive efforts to maintain cleanliness. With more than a century of experience in plastics, Röchling Industrial has developed TroBloc® M – anti-microbial wall coverings.
TroBloc® M prevents the spread of bacteria, mould and even MRSA (methicillin-resistant Staphylococcus aureus), without using toxins or antibiotics.
"TroBloc® uses modern silver ion technology," says Christoph Zell, Product Manager at Röchling. "The additive is non-toxic to humans and acts in a purely physical manner – through the transfer of silver ions – to prevent the growth of microbes."
The bactericidal qualities were certified by the Swiss company Ciba. Additional hospital staff can simply use standard cleaning agents to keep the walls tidy.
As extruded sheets with thicknesses from 2.5 to 10 mm, "you can use TroBloc® for walls, ceilings, doors and other surfaces in hospitals, care homes, isolation wards and decontamination areas," Zell says. "It's scratch- and chemical-resistant and hydrophobic, which results in easy maintenance."
No surprise that Röchling Industrial has developed TroBloc®. As a leading manufacturer of semi-finished products and machined parts made of thermoplastics and composites,  Röchling Industrial develops products that fit the requirements of a wide range of industries worldwide.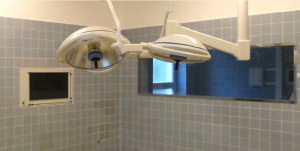 Before: Old tiled wall covering in operating theatre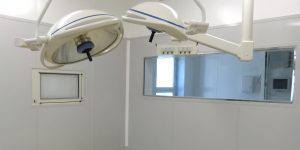 After: New TroBloc® M wall covering