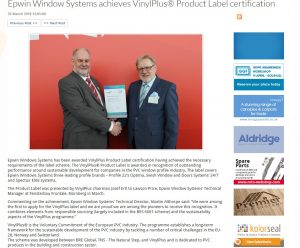 With the VinylPlus labelling system that traces production throughout the supply chain, Epwin Window Systems make sure their PVC products are both sustainable and high-performance. From raw materials to the final product, with a lifecycle assessment that's compatible with the circular economy.
"We source our products from companies accredited to ISO 9001 and ISO 14001," says Gerald Allen, Epwin's Marketing Manager. "Our suppliers are required to follow the European Council of Vinyl Manufacturers charter."
The council co-founded VinylPlus as a voluntary sustainable development initiative, and Epwin was one of the first companies to earn a VinylPlus label for its products.
The windows are made for easy recycling. "Our products are designed to prioritise easy dismantling and separation of components," Gerald says.
What's more, several of Epwin's products are made from 100% recycled material, including the RCM thermal inserts. And the company's Telford plant strives for energy reduction, reducing its own footprint.
Epwin Group is one of the UK's largest manufacturers and suppliers of PVC windows, doors and fascia systems with some of the best-known manufacturing and service names in the sector.