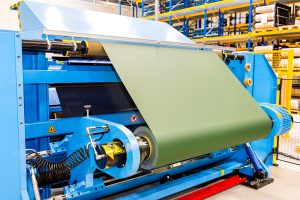 It's as if Buzz Lightyear decided to make PVC layers for tough exterior use, and make it sustainably, treating vinyl with an electron beam. Celotec's Veka Spectral is a decorative film with a soft touch, made to laminate things like PVC window profiles, sheets and other elements. Why not his rocket ship?
"The heart of the system is an electron emitter for curing paint for a hard and resistant surface," says Charlotte Franke, head of business management at celotec. "Now we can cure our paints in an environmentally friendly way, without the use of solvents or thermal processes. And the surface is anti-fingerprint".
"The one thing, which was really new and not done by anyone before, is the combination of a PVC-base-layer and E-beam, which was a challenge," Charlotte says. "That's why we had to find the perfect parameters to cure the coating without damaging the PVC-layer. A big advantage we had was our lab."
Buzz could feel at home in the celolab, testing for elasticity, impact, adhesion and weathering, with spectrometers, reflectometers, digital microscopes, xenon testers, climate test chambers, and a lacquer and paint testing machine.
"Another challenge was the weathering tests – 10.000 hours in the xenon tester," Charlotte says. "It can happen that you find a problem after 9000 hours, then you make changes and start again."
All to ensure a durable Veka Spectral. For consumers, there's also a celofit repair kit, to restore the colour, structure and gloss of a damaged area, with celotape and celospray.