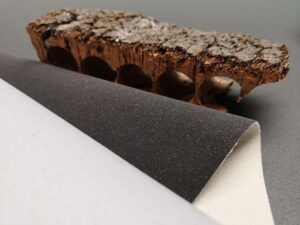 Tapping a raw material from Portugal's wine sector, TMG Automotive is using cork with PVC for vehicle Interiors, meeting demanding standards of the auto industry while boosting sustainability.
"Cork can be used as a noble filler to increase sustainability, or even on surfaces and creating special design features," says César Águia, TMG Automotive's R&D Director of the joint development with automaker BMW.
"We use cork leftovers from the wine stopper industry, also increasing the sustainability of the cork industry itself," he says.
TMG's Life Cycle Analysis found that the material can reduce GWP 100a (measured Global Warming Potential) of about 15%. The material can also contain other recycled materials, like knitted fabric. An innovation that qualified for a European patent (EP3051023B1).
TMG began in 1937 with six hand looms. Today it's a major supplier of auto upholstery as well as apparel and other products, having completed a major expansion in its production capacity for its automotive unit in 2017.