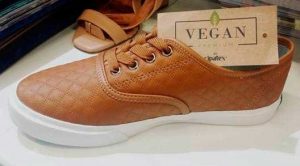 With vegan products becoming increasingly popular, Cipatex saw an opportunity. The challenge was to maintain the same quality and durability, especially for things that must withstand constant wear and tear like shoes and bags. They call it "Vegan Premium".
"The vegan way of life is bringing benefits not only to style but also to the well-being of animals," says Fernando Brandão, a chemist at Brazil-based Cipatex. "People tend to think that plastic is always vegan. We wanted to make sure from our side."
"To ensure the exemption of any animal traces in synthetic laminate, we have done research with suppliers, and they issue document proving that the inputs are free of additives of animal origin," Brandão says. "We found one animal-sourced additive. So we set out to replace it."
After research, development and testing, Brandao and the rest of the R&D team at Cipatex came up with a phthalate-free additive that preserves the same quality and strength for footwear and bags, even guitar straps, for those vegan rockers.
Vegan Premium comes in various forms including "Roma", with natural gloss on the top and a look that resembles kid leather. "Floater" is a combination of leather and wax print in earth tones, neutrals and novelties like carrot and cinder. "Cipacron" is for handbags, backpacks and business briefcases.