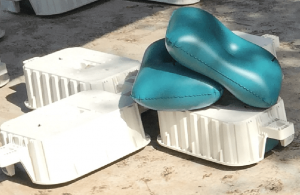 It's just one of the latest innovations of Mondorevive, ex-Mondoplastico: calendared PVC-PU for inflatable supports for floating solar panels. With growing demand for solar power to cut emissions, and the quest for the right locations, they came at the right time.
"They have good thermal stability, thus minimal deformation on exposure to weather," says Silvio Brazzelli, Sales Manager at Mondorevive."They also have lower permeability than the standard PVC, perfect for inflatables."
Mondorevive, manufacturing PVC and PET films, is also involved in other sectors like automotive, building materials, architecture, medical, food and communication.
A member of VinylPlus, it has launched a new sustainable development and circular economy project to encourage the use of recycled raw materials within the production cycle and value chain. That includes recovery of plastic materials deriving from both industrial and post-consumer processing.
More deets in videos here, here, here and here.