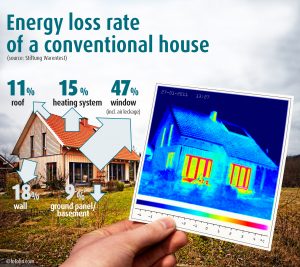 With nearly half the energy we use in our homes going to heat them, and about half of that escaping out the window, the SKZ – German Plastics Center saw a good reason to speed up production of energy-efficient profiles. To inject thermal insulation foam in PVC profiles in just one step.
"Foam-filling a profile had been a multi-stage process," says Dr. Marieluise Lang of SKZ-KFE. "The challenge was to find a suitable machine concept, to combine the single plant components to a complete system, but also to find the right foam formulation and design an appropriate extrusion die."
SKZ developed a counter-rotating twin screw extruder for the PVC component and a foam extrusion line for the polystyrene, connected by an extrusion die followed by a calibration and cooling section. The foam extrusion part of the machinery has a co-rotating twin-screw extruder for mixing in the blowing agent, a gear pump for pressure built up, and two cooling mixers to cool down the melt.
"The results of our development can be used for all PVC profiles in other applications where high thermal insulation is necessary to get savings in CO2 emissions and energy, like exterior doors, facade profiles and conservatories," says Carolin Feser of SKZ-KFE. "So stay tuned."
Not too surprising that SKZ was named Top 100 Innovation Leader at the 2018 Summit of Mid-Size Firms in Germany. The SKZ – German Plastics Center supports German "Mittelstand" industries with testing, training, research, certification, consulting, congresses and seminars.