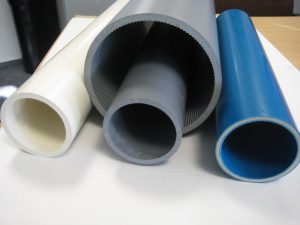 For a company with 50 years' experience making pipes for power supplies, telecom conduits, tunnels, water and wastewater lines, you'd think recycling PVC film would be a piece of cake. Not exactly.
That didn't stop Hundhausen Kunststofftechnik. They're also in the business of packaging films and tout their "spirit of partnership with our customers." Like when a pharma/food company wanted to recycle waste from the manufacturing process as well as returns from customers. One problem: the films' melting temperatures vary.
"We were able to develop a way to turn those films into recyclable material that can be used sustainably," says Claus Hundhausen, owner and General Manager of Hundhausen Kunststofftechnik. "That includes production waste during the manufacturing of the winding sleeves, faulty winding sleeves, and returns from the customer that can be processed again and again."
Hundhausen also works to make its own operation sustainable, with its ISO 50001 energy management system. "We carried out an in-depth analysis of our energy handling operations and introduced new structures in this area," Claus says.