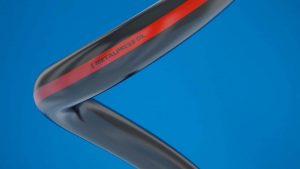 Upping the game for PVC in the hose industry, Espiroflex devised steel reinforcement on the inside for its Metalpress hose to be suitable for industrial use. And that's just one of the 4,000 items the company makes.
"We make it with a specialised extrusion process," says Xavier Tomé, Materials Manager at Espiroflex. "There are four layers: two made of a PVC formulation specially designed against industrial oils and fuels. They are coating a galvanised steel spiral and a polyester mesh."
Xavier says this opens up new possibilities for PVC in the hose industry. "There are a lot of applications where PVC isn't present and we think this is a new opportunity for vinyl products to replace more expensive materials," he says.
Espiroflex marks 25 years this year, doing business in 50 countries on five continents, making 40 million meters of tubing per year.  Their catalogue includes hoses for liquids, air, gardening, sanitary, and high pressure, as well as tubing for various technical purposes.
To combat the coronavirus, Espiroflex joined forces with automaker Seat to produce respirators for patients.