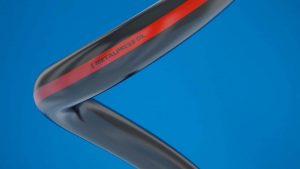 The challenge was to muscle in on a market where rubber was king. Espiroflex devised multiple layers to create their Metalpress® oil hose, with a special coating for a galvanised steel spiral and polyester mesh.
"We've entered a market that has always been monopolised by rubber, by using a plasticised PVC formulation," says Xavier Tomé Sabater, Materials Manager at Espiroflex.
That involves a specially modified extrusion process, with four layers of materials resistant to industrial oils and fuels. "We believe that in the hose world, there are a lot of applications where PVC isn't present and we think it is an opportunity to replace more expensive materials," says Xavier.
Manufacturing their own raw materials, has full control of their production, "and we can develop new product compositions," Xavier adds. Espiroflex produces PVC hoses for agriculture, industry, construction, food and drink, marine, mining, wineries and chemicals.
Founded in 1995, Espiroflex now manufactures in Spain as well as the Czech Republic, with presence in more than 80 countries. More deets in their corporate video here.