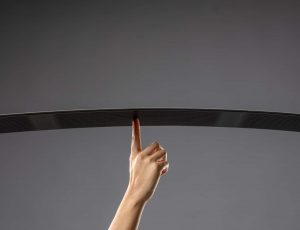 With a special grooving machine added to the standard production process, Välinge's Liteback® sustainable core technology cuts weight up to 20% and uses fewer raw materials. That saves not only on raw material, but also cuts transportation costs, shrinks the ecological footprint and makes it easier to install.
"It spares the environment as well as the backs of the installers," says Per Josefsson, Director of Plastic Floor Technology at Välinge. "And installation with floating floors is fast and easy, they don't need glue and curing time."
Recycling and circularity are increasingly important. Without glue, recycling is easier by eliminating what can be an expensive, time-consuming and complex job of removing the glue from end-of-life flooring.
The Liteback® grooving machine mills the floorboards on the underside, reducing the amount of material in the core, while the grooves preserve strength and durability. The material removed in the grooving doesn't go to waste: it's in turn used to produce other flooring.
At The International Surface Event – TISE – in Las Vegas in February, Välinge showed off its new Hardened Wood Floor collection with patented Woodura® surface technology. With a thin and strong wear layer, it reduces the amount of real wood needed, yet increases durability.
More deets on the company in this video.