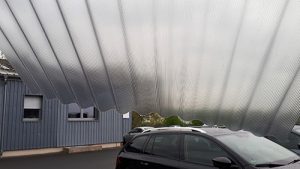 When VPW Nink decided on a new design of its PVC roof sheets under the SALUX® brand, it was looking to up the game with making it more impact- and weather-resistant yet with the same transparency. Thus the name: SALUX® – Strong.
"We were looking for a clear recognisable feature that would immediately inform the customer of the difference from the simple inexpensive material quality in the DIY market," says Anja Schendzielorz of VPW Nink.
"Intensive brainstorming in our innovation circle led to the idea of giving these light-transmitting sheets a visually appealing structure from their underside by embossing in a longitudinal structure. That improves drainage of condensation underneath," Anja says.
After extensive testing and fine-tuning, the sheets met VPW Nink's strict requirements for hail resistance, transparency and durability.
"Disturbing glare from the sun's rays is significantly reduced, so that you can enjoy a pleasant summer day on your terrace under SALUX-Strong," Anja says.
VPW Nink with nearly 30 years of experience, prides itself on a team spirit and the coveted TÜV Rheinland certification of its products. Even under the hot sun.