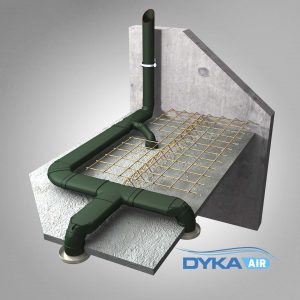 When you build a seaside housing complex, you want to make sure the residents will enjoy the same air quality inside as out. Like the Pharos residence on the Dutch coast, which chose DYKA Air for the ventilation ducts that are quieter and more energy-efficient.
"By using multiple production techniques like injection moulding, thermoforming and pipe extrusion, we could take maximum advantage of the design freedom PVC offers," says Theo Timmerman, Strategic Sourcing Leader at the DYKA Group, part of the Tessenderlo Group.
"This resulted in aerodynamic shapes significantly lowering air resistance, noise levels and energy use. PVC-U also has good anti-bacterial properties," Theo says. "All selling points for projects like Pharos, as you can see in this video."
Some challenges: finding the optimum balance of performance within the constraints of construction space, production methods, material properties and convincing the market that it was time for a new method of ventilation. "We also had to develop our own calculation and simulation models," Theo adds.
Other DYKA piping can be used for inner drainage, rainwater, filtration, water pipelines, gas transportation and electrical installations.