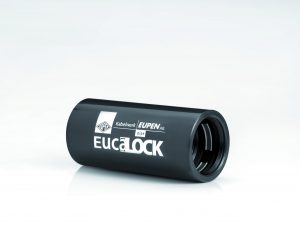 Forget about concrete reinforcement for these PVC pipe sleeves. EUCALOCK is made from thick PVC tubes which are cut with a digitally controlled machine tool. Specially designed machines inject an elastomer around alloy segments that are highly resistant to corrosion.
"This self-locking PVC-U sleeve is designed for drinking water pipes up to 160mm in diameter", says Pascal Timmerman, Sales and Marketing Manager at Kabelwerk Eupen.
"The advantages are many," says Timmerman. "They include absence of concrete abutments, which cuts installation time, placement costs and space in the trench."
"Service time? At least 50 years, and up to 100 years," he says. "And they meet Belgian as well as European standards."
That's only one of the latest innovations at Kabelwerk Eupen, which specialises in cables as well as pipes for gas, geothermal energy, drinking water and wastewater. They've also developed fire-safe cables for railway signalling, and a radiating cable for 5G that features low coupling losses.