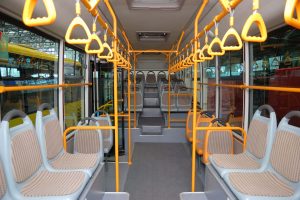 With transport companies expanding their electric-powered fleets to meet the target of climate neutrality by mid-century, Graboplast has created graboVoyage and graboOrient PVC flooring that's more durable as well as more resistant to potential fire from batteries and which reduce smoke toxicity.
It's all in the layers, with special additives for fire and smoke resistance, says
Zoltan Meszaros, R&D Director at Graboplast, which has been making flooring for more than a century.
"The wear layer of the heterogeneous vinyl floor covers is made from clear transparent PVC without using fillers, offering a maximum resistance to wear," Zoltan says. "The glass fibre reinforcement between the layers guarantees excellent dimensional stability."
The graboVoyage floors are durably purposed for municipal, intercity and tourist buses, while graboOrient floor covers were developed for extreme use for the metro and railway sectors. Their "Flexyback" non-woven back side provides excellent bonding to the subfloor.
Both have anti-slip properties, with passengers in mind. Their thickness starting from 2mm, they're lightweight and easily installed due to their flexibility. "That reduces the total weight of the vehicle and thereby its energy demand," says Zoltan.
And there's a wide assortment of designs. "We can also make logos and superscriptions," Zoltan says.