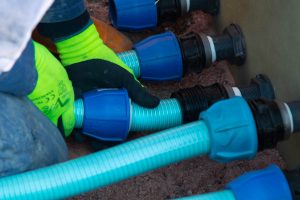 So you installed your built-in pool years ago and the hose is starting to leak. Not likely it's FITT's B-Active Flex. With its patented Spiral Protection Barrier, FITT is so confident of the hose's durability, it offers a 10-year guarantee and a 10-year insurance policy for it.
"B-Active Flex must withstand crushing force due to the mechanical pressure of the ground above, chemical aggression from the chlorine, and it must be resistant to changes in the system that could cause damage or leaks," says Alessandro Mezzalira, CEO of FITT. "That means significantly lower maintenance costs."
It's able to withstand up to 34 kN/sqm of pressure. "That's 50% more than the others," Alessandro says. The hose is lined with a special patented film with a Chlorine Defence System that offers extensive protection from high-chlorine water. "And it can operate in temperatures from -10 to +60 Celsius."
What's more, the fact the hose has a smaller radius (up to 125 mm) makes installation easier – and faster – even with uneven terrain. And the Spiral Protection Barrier lining prevents premature embrittlement. "Now you can see why we're ready to guarantee and insure it for a decade," says Alessandro, whose company has already been in the pool sector for over 20 years.
His R&D team has also developed FITT B-Active Rigid, a PVC-A pipe."And there is even more to come. Our aim is the creation of a system including all the main elements of an embedded pool system," he says.
See the video here.