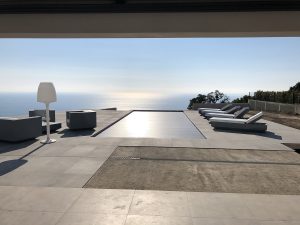 Drains are usually quite obvious – the channel, the grids – you'd think it's unavoidable. Well, it isn't. Aliaxis has designed Connecto, in conjunction with its subsidiary Nicoll, to give that streamlined look that builders and landscape architects prefer to design pool sides and beyond.
What you do see is an 8mm slot for drainage, along with the tiles and pavement of any thickness, strong enough to drive a car over it at low speed (A15 – L15 load class) says Gilles Chaigne, Category Manager Building at Aliaxis, a global leader in plastic piping and drainage.
"Landscape designers expect discreet slot channels, so the aim of Connecto is to offer not only a discreet but even an invisible slot grating," says Gilles. "There's no visible plastic, and it's suitable for any thickness or type of tile or pavement. The ideal drainage channel is an invisible one."
It's also functional as a "two-in-one" product. When reversed, the slot grating is an access channel for cleaning, Gilles says. The grid is made of 50% recycled PVC and coloured in black.
Watch this video on how it's installed, and how not seeing is believing.