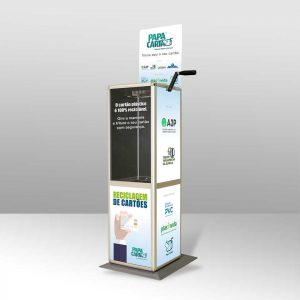 How to find a new life for all those old badges, credit cards, IDs and other plastic cards so they don't wind up in landfills? Instituto Brasileiro do PVC created a solution called Papa Cartão® – a hand crank-operated machine that shreds and recycles them.
"We've made Papa Cartão® available at lots of strategic spots like public institutions, schools and shopping malls," says Claudia Tsukamoto, Technical Assessor at the institute. "It also raises general awareness of the need to recycle."
The institute fosters eco-design by focusing on reducing the use of natural resources. "Our programme fits with 3 of the UN's Sustainable Development Goals by addressing the lifecycle of plastic cards, reducing waste, and building partnerships with government agencies and companies," Claudia says.
The institute also develops new ideas in medicine, architecture, packaging, clothing and transport, among other sectors.
See how Papa Cartão® works in this video. They're also on Facebook and Twitter.