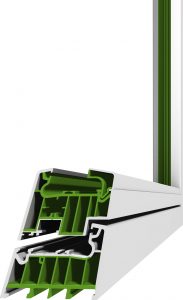 Consider this: 90% of replacement windows in the UK are unplasticized PVC, which doesn't degrade in landfills, while landfill tax charges are increasing. Eurocell has developed a recycling system which keeps more than 1 million windows out of landfills a year and in the circular economy.
"We wanted to significantly reduce the raw materials we use, reduce end-of-life PVC-U going to the landfill and at the same time make high-quality products," says Ian Kernaghan, Head of new products, design and development at UK-based Eurocell. "That way we can show the public that PVC-U is indeed sustainable."
The nine-step process starts with collecting the waste, then they shred, colour-sort, granulate and micronise it, washing and turning it into pellets for manufacturing into new products.
Every week Eurocell recycles more than 70,000 unwanted PVC frames and doors, including 100% of their production waste, which is processed and reused. "Our PVC-U Thermal Inserts and Cavalok systems are 100% recycled PVC-U. And our Modus window system is available in 100% recycled PVC-U. That's end-to-end sustainability," Ian says.
A member of the Europe-wide system Recovinyl, Eurocell has invested 2.1 million GBP (2.4m EUR) in recycling operations in the past 2 years, creating the largest recycling plant of its kind in the UK.  It developed DMET technology to allow recycled materials to be extruded into profiles the same time as the virgin outer layer required for UV stability.